Jean-Frédéric Peugeot's Pepper Mill

Origin

Jean-Frédéric Peugeot (Peugeot company)

Type

Wooden pepper mill

Effects

Produces endless black pepper.

Downsides

Causes uncontrollable sneezing in vicinity. Increases rage in user and those who consume pepper from the grinder.

Activation

Holding, shaking/grinding

Collected by

Gerald Cooper

Section

Date of Collection

4-17-1845

[Source]
Peugeot of France created the pepper grinder in 1842.
Jean-Frédéric Peugeot was one of two sons of Jean-Pierre.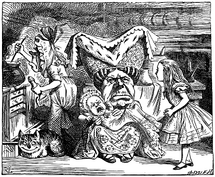 Ad blocker interference detected!
Wikia is a free-to-use site that makes money from advertising. We have a modified experience for viewers using ad blockers

Wikia is not accessible if you've made further modifications. Remove the custom ad blocker rule(s) and the page will load as expected.